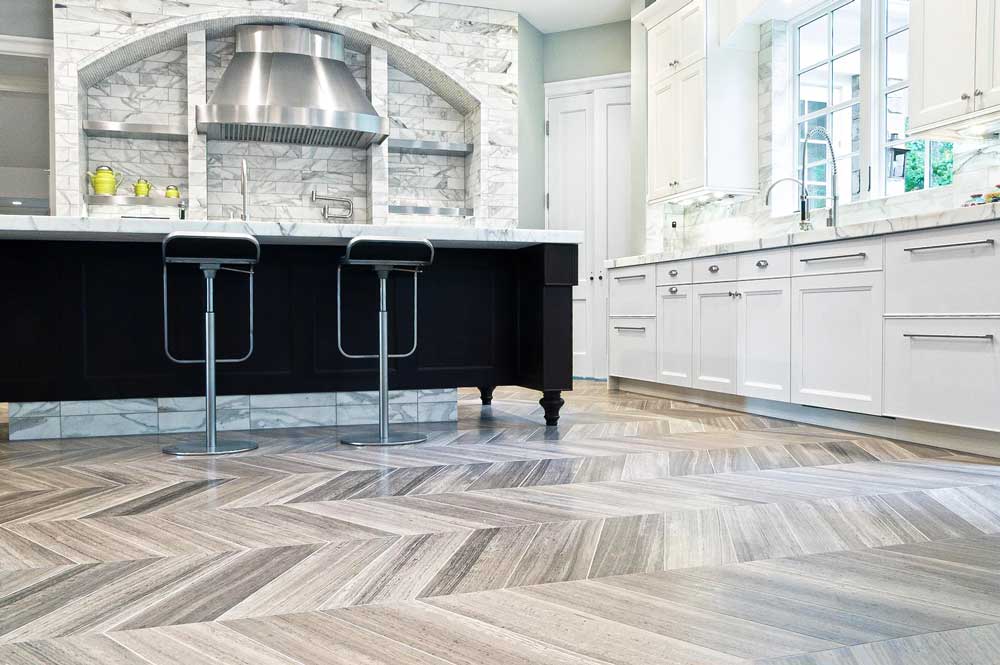 There are a lot of decisions when deciding on a new hardwood floor for your home; it is not just about picking out the floor. You have to consider the rooms you are doing and the look you would like to achieve. The type of room it is for (ex; bedroom, kitchen, family room) and amount of foot traffic will also have to be considered in your selection. Hardwood flooring adds style and warmth to any room. It will also add value to your home. Let's look at the choices available:
SOLID ¾ INCH HARDWOOD FLOORING
This type of wood flooring is probably the most familiar. It is ¾" thick, tongue and groove construction, which is nailed into a plywood subfloor. It is generally good for any area that is above grade. It comes in a vast selection of widths, species and colors. The trend has been to wider planks, starting at 3 inch width. Darker wood flooring is another big trend. 
ENGINEERED HARDWOOD FLOORING
This type of wood flooring is made of several layers of plywood with a layer of hardwood on top. Because of its construction, it is dimensionally a more stable floor than a solid. It is a misconception that it is a cheaper product. Engineered flooring is used when you have either concrete subfloor or when the height of the flooring is a concern. For example; when you are remodeling your kitchen, you want your new floor to be close to the same height as the existing floors in your home. As with solid flooring, engineered flooring comes in a wide array of species and widths.
HANDSCRAPED WOOD FLOORING
Hand scraped hardwood flooring is designed to have the look of an older style floor made by hand, showing a natural kind of wear, but it still enjoys the modern finishes which protect the floor.
Looking for a more rustic look or Tuscan decor, this is the choice for you. It adds to the design element of the room. An advantage the hand scraped look has is that it naturally hides any minor blemishes which may occur in the future, a minor scrape or dent. This can make it a good choice for an active household.
BAMBOO FLOORING
Bamboo is an attractive and "green" alternative choice for your home. Bamboo floor is both strong and durable as well as its resistance to insects and moisture. Bamboo flooring has come a long way since it first became popular. It is now available in many colors and looks. The look or graining of the floor comes from how it is cut. These two Bamboo constructions result in very different visual styles, which you can see below.
CORK FLOORING
Cork flooring is enjoying a resurgence in popularity today. From television design shows to magazines, cork is seemingly everywhere and apparently the "hottest new product" on the market. Many people think of cork as a relatively new and possibly unreliable option particularly as a surface flooring material but it has been used in residential buildings in New York City for over 100 years. It will perform similar to a wood floor but has additional advantages. Here is a chart comparing cork to other flooring options:
NATURAL CORK
HARDWOOD
CERAMIC
LAMINATE
CARPET
WARMTH
YES
NO
NO
NO
YES
COMFORT UNDERFOOT
YES
YES
NO
NO
YES
ALL NATURAL
YES
YES
NO
NO
NO
MOLD/MILDEW RESISTANT
YES
NO
NO
NO
NO
ACOUSTIC INSULATOR
YES
NO
NO
NO
YES
THERMAL INSULATOR
YES
NO
NO
NO
YES
INCREASE HOME VALUE
YES
YES
YES
NO
YES
FIRE INHIBITOR
YES
NO
NO
NO
NO
RESILIENT
YES
NO
NO
NO
NO